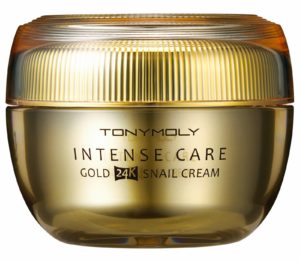 I LOVE this stuff.  In Korea, this is a big hit and as I mentioned in my first blog, I really like the Tony Moly one.  I've been using it for six months and it has made an incredible difference in the texture of my skin.  I know, snail slime … gross, but trust me ladies, it really works.  I use it in the morning and in the evening and what I noticed is that my pores are smaller, my face is more radiant and it helped fade dark spots.  Some of my girlfriends who used it before me told me about it, but I didn't believe them until I did some research on it (I also noticed that they had great skin).  So, what does the research say?  According to various articles, it says that the slime secreted by snails that helps protect their exposed bottoms against cuts, bacteria, and UV rays contains a potent combination of elastin, proteins, anti-microbials, copper peptide, hyaluronic acid, and glycolic acid — all know beauty enhancers!  Did you know that snails were first prescribed in ancient Greece as a topical treatment to reduce inflammation?  In Korea, they market it by saying that it helps smooth the skin, better complexion and revitalizes the skin.
I think the best product is Tony Moly's Intense Care Gold 24K Snail Cream.  I tried their Ferment Snail Cream and I didn't like it as much.  The texture is not as smooth and moist as the Intense Care Gold one.  They have snail toners and serum, but you don't need them.  You just need the cream.  It isn't that expensive either (like some of the French brands).  The cream is usually around US$35 a jar.  In Asia, you can get two for the price of one!   If you want to try some other snail products, then I would also recommend (i) Tony Moly's Intense Care Mask (I use it once a week or when I am on long haul plane rides for hydration purposes), (ii) their snail lip balm and (iii) ferment snail BB cream with SPF 45.
Also, what I noticed is that you will really notice a difference only after you have used about two jars.  These jars don't last very long because the cream is very watery.  I think one jar probably last about three weeks if you are using it day and night.  After you have used about two jars, I would recommend that you take a break for one month.  The reason that I say this is that I noticed that continuous use doesn't seem to make your skin any better.  Your skin reaches its peak potential from the snail secretion and then nothing really happens.  That is when you should take a break and use something else and then return to it.  You can continue to use it if you like and not take a break, but you will see that after a while, your face doesn't glow as much as it did before.  That is why I like to take a few weeks break from the product and use my other products.  Once I return to the snail cream, it starts to work again, but when I return to it, I use other combine it with other products (such as Vitamin C or Retin A).
Give it a go … you have nothing to lose, except for your dull complexion, spots and wrinkles!!